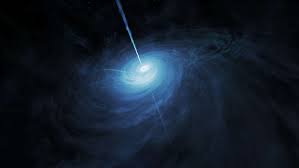 Hello everyone!! I don't know where to start, I hope this hard translation is understandable, I've had an idea going around my head for years and I would like to be able to share it with you in this forum to study its feasibility, it basically consists of accelerating a deuterium gas taken to the state of plasma through MHD using a multistage plasma cannon, the plasma accelerated to tens of miles per second would compress towards the center in rotation, the idea is to achieve a CONSTRICTION effect of the plasma on itself thanks to the kinetic energy accumulated through the cannon MHD, this constriction would be more pronounced the more towards the center the plasma is, in the end the rotating plasma would have to come out perpendicular to the constriction plane, I have devised this fusion methodology observing the quasars.
My concept of centripetal fuser works through a very large initial energy discharge in an extremely short time, this energy will be provided by banks of electrical capacitors, the purpose of which is to provide the plasma with such a large kinetic energy that when it is driven into the chamber of centripetation an orderly implosion is created. The purpose of a rotating plasma is that the density of nuclei can be significantly increased by having an order generated by the centripetal rotation as well as the time they remain together in a constriction process.
Regardless of whether or not there are fusion reactions, the plasma highly heated by compression and highly densified is projected perpendicular to the centripetal plane.
By means of an MHD generator that operates inversely to the MHD cannon, hypothetical energy surpluses can be collected, the slowed down and much colder plasma would start the cycle again, in such a way that an infinite cycle of centripetation - fusion - expansion is created.