Hello all- Thought I might give some updates on what I've been up to since heading off to college. In addition to my own projects( which I'll post pictures of at a later date), I've been hired to work on a x-ray imaging project. In lieu of attenuation-contrast, the idea behind this work is to use phase changes in transmitted x-rays to construct a far better image per unit dose.The way I've heard it pitched is that it will have applications in mammography if they can get the detectors to work right. The catch is that in the past, it has required an almost perfectly monoenergetic x-ray beam to accomplish. Well, with today's advanced DR plates and image-processing software, it can be done with a pretty broad peak, as long as you have a very small focal spot (on the range of ~250um). This lead to the suggestion that a modified x-ray tube could do the job, and I was the undergrad they handed the project off to. The plan was to make an ultra fine focus tube with um scale patterns of Ag dots and lines on the target to produce the required interference patterns.
The first iteration was built by my prof, and it worked reasonably well. Unfortunately, it was more than a foot long, wouldn't focus below ~1mm and had a varying spot size based on current (extremely problematic, as the required intensity will vary based on the object to be imaged). I redesigned the source, shrunk it to fit within a 3.38CF flange and built it from scrap Al stock in the MITERS shop. Here's the result:
SIMION model with 5mA beam current and beam repulsion turned on showing rather poor focus characteristics. I don't have a good screenshot handy showing it focusing properly, but this gives you a good feel for how the column works.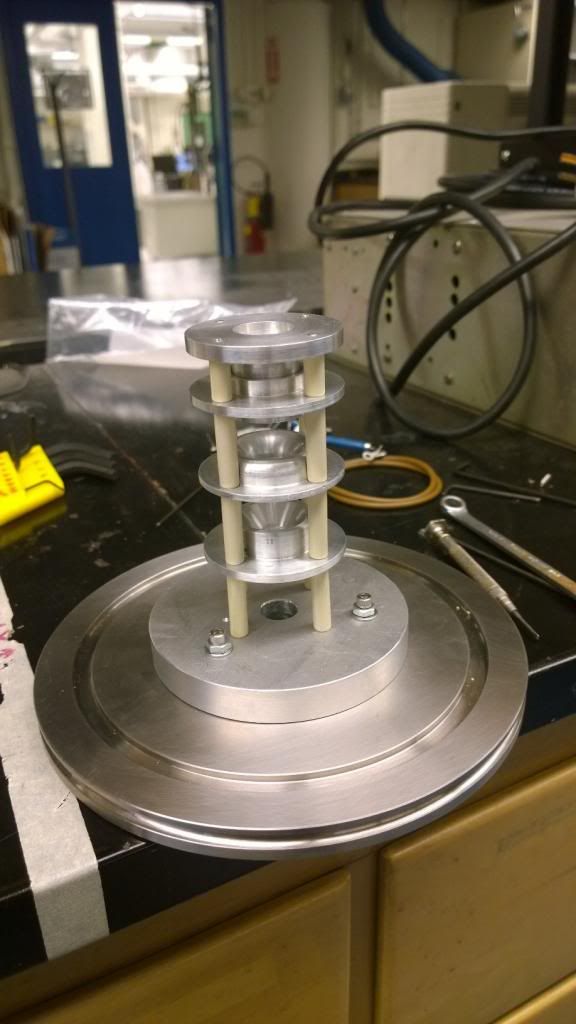 Column set up to be placed in the vacuum assembly and run for the first time. (Note: I only have an enormous vacuum chamber accessible to me, so that's where it gets tested until I can build a compact enclosure)
A couple of minutes into the first pumpdown. Copper pipes coming out the right side are for water cooling of the target. They were not needed until >1mA beam current!
Glow from the hot filament illuminating the column.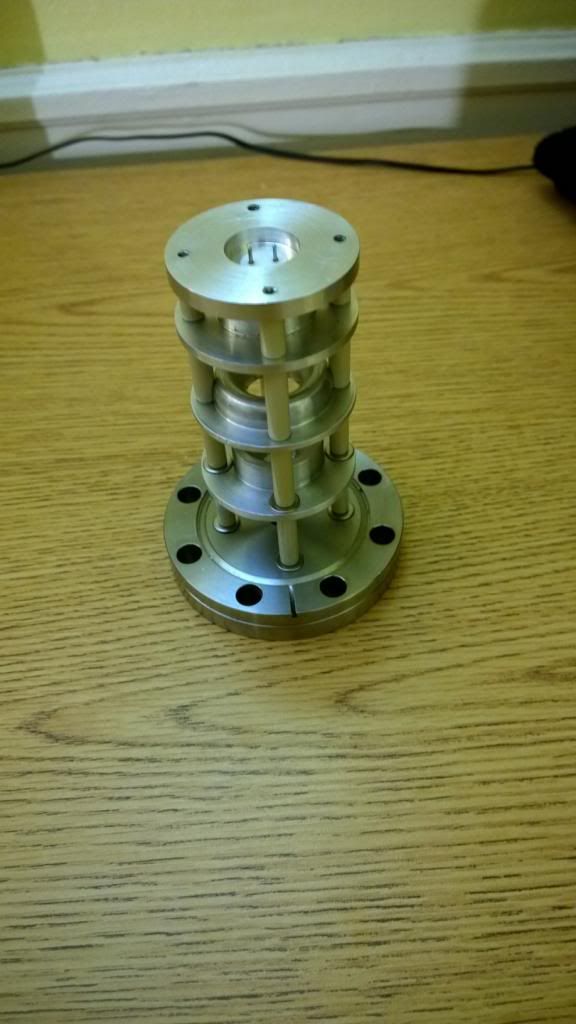 Accelerator column with LaB6 thermionic electron source installed and set on its own conflat. This is how the final assembly will look, but with a large alumina insulator surrounding the column. The plan is to turn it into a sealed source with no need for active pumping.